Wow, Tuesday was incredible. Well, actually, all of last month was unbelievable.
But before I go into details, I have not had time to tell you about the conference call with the doctor for the University of Washington Adoption Medical Clinic. He was very encouraging. He enjoyed watching Priscilla's videos and got a kick out her little personality. By the end of the conversation he told us that he had no reservations about how we would handle caring for Priscilla when she comes home. He gave us some questions to ask when we go to see her the first time in order to better prepare for her medical needs when we bring her home. He even told us that he believes that Priscilla will thrive in our home and under our care. The phone call was absolutely so encouraging!
I have crunched the numbers. I am waiting on just a few Facebook Auction winners to pay, and for a the checks for the proceeds from the parties to arrive.
Just as a reminder, when we were offered the matching grant, the two limits were donations being given by the end of April and a maximum matching grant of $14,000.
Here are the preliminary total amounts donated to our adoption in the last 5 weeks:
Reece's Rainbow FSP Grant - $4560 (before Paypal fees taken out)
Cash/in person donations - $1015
Commissions on Amazon Sales - $89
Paypal Donations during April - $913
Spaghetti Feed/Silent Auction Donations - $3198
April FB Auctions - $616 (all but 4 winners have paid, so this is approximate)
Party Commissions - $193.00
Checks coming for Waldorf Doll's sold - $180.00
When we started out 5 weeks ago, we had approximately $21,000 in adoption costs still to cover.
That meant, that with the matching grant we needed to raise $10,500.
Did you add those figures up???
$10,764 was donated!
I know, no way! Right?!
Also, if you remember, that I shared that we would need $6,000 in order to prepare and submit our dossier, and that we would not have access to our Reece's Rainbow Grant (which is where the matching grant is going) until after our dossier is submitted, approved and we have been invited to travel.
Well, readers, it looks like we will reach that goal. Right now, we have just shy of $4,000 in our savings account (after transferring the money needed for the I800a application), and we have over $1,000 in our Paypal account that I have not transferred yet. We still have a few hundred dollars coming our way in the next week (proceeds from parties and the sale of the Waldorf dolls and a few FB auctions). Since then, we have actually done some preparation, so we no longer need all $6,000 in place, it's more like $5,600. With a little of our personal funds, we will be able to accomplish this easily!
Five weeks ago, $14,000, $10,500 and $6,000 were numbers that I was working with, and every single one of them seemed so out or reach. It just didn't seem possible. Humanly possible that is.
But my God is so much bigger and better than I could have imagined. He took those numbers and showed me that NOTHING is impossible with God.
Lastly, we have doubted. Others have doubted. Some have expressed their concerns to us in person (and their concerns are mostly valid!). There have been so many times in the last few months where we have thought to ourselves "what in the world are we doing."
Well, God has over and over assured us that this is His will for our family. Priscilla is our child, born on the other side of the world, but our child.
God doesn't limit Himself to using people who are capable, strong, and have plenty of resources. If He did, He wouldn't get much of the credit. He chooses people who are incapable of doing what He is asking, unless He steps in and equips them to do His will.
Voddy Bachaum talked a lot at the Home School Conference about the fact that God doesn't require something of us without enabling us to do it first. Our pastor has said "His Commands are His Enablings" (or something like that).
God has taught us through this that He is more than able to meet our needs - all our needs.
Amazing. Incredible. Unbelievable. These are words that I using far too often of late...so I went to the thesaurus to increase my vocabulary.
Astounding, Bewildering, Marvelous, Spectacular, Staggering, Stupendous, Astonishing...words only begin to describe how I feel right now.
I hope you are as in awe of what God has done as I am.
Life will seem quite dull after this month. Well, life is never dull around this house, but you know what I mean!!
Before I end, please pray for the Browns and Gemma. I had the blessing of meeting Maria, Gemma's mommy, at the home school conference this past week. I was able to see the many photographs and videos that she took when she went to visit Gemma in January - Gemma is beautiful, but she needs to come home as she is not receiving the care that she desperately needs. They have been waiting for over 3 months now for a signature from the government in Priscilla's country (Priscilla and Gemma are in the same country, but different cities). Some families who have gone to meet their little ones after the Browns returned home have already gotten their signatures and invitations to travel. This is very discouraging for them.
Please pray that the Browns will get their signature first thing after that government resumes (they are on holiday all this week). If you can, stop over on their blog,
Carry Your Light
and give them some encouragement by commenting on her blog, or better yet, donate to their FSP, because as you can see, they have received very little financial help for their adoption. They also have an Amazon search button that you can use to do your shopping and help them bring Gemma home! But most of all, pray for this family, that they would be encouraged and that they would be going to bring Gemma home soon!!!!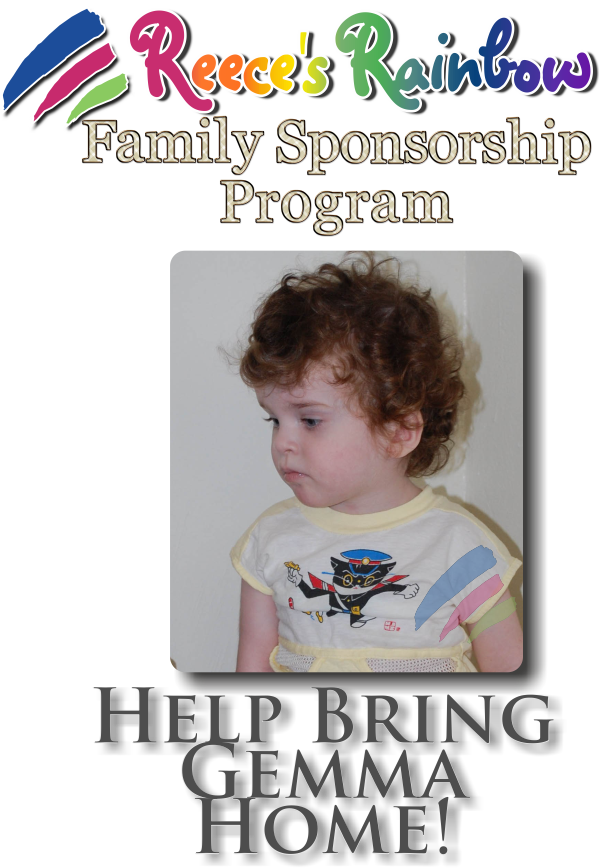 CLICK HERE to find out how you can become a Reece's Rainbow Warrior!